Is Marrakech Safe for Female Travelers?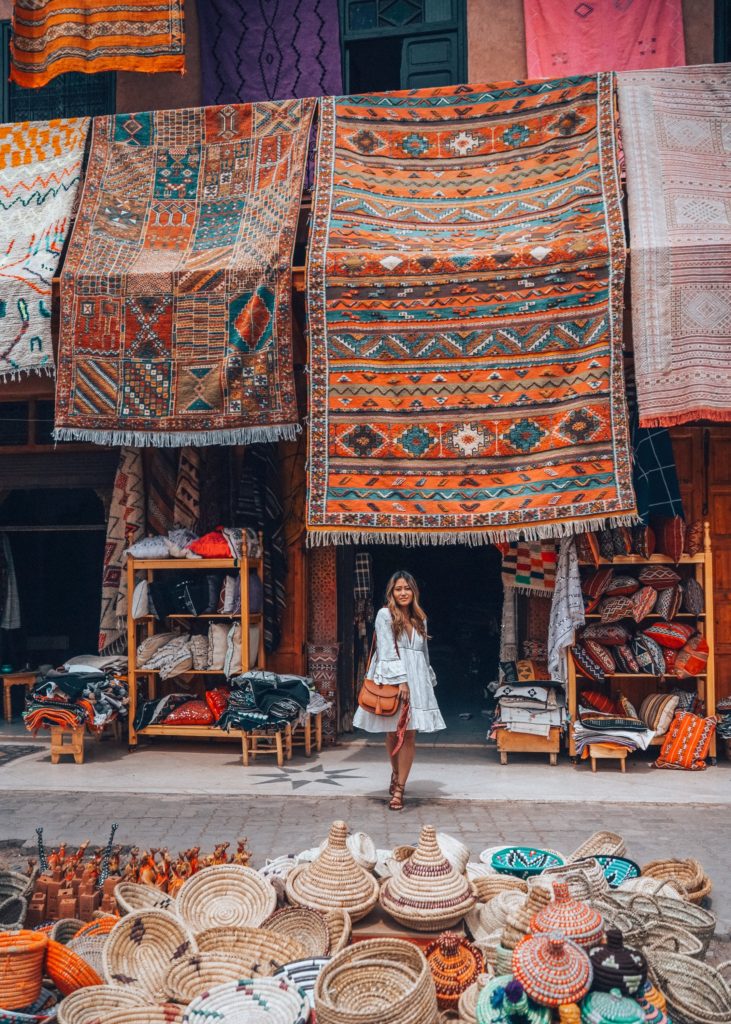 Visiting Morocco twice in the span of one year was the most surreal feeling. Even while there, the overwhelming sense of enchantment, mystery, and wonder still leave me in a constant dream-like state. But despite how dreamy it is, the question I get the most about my trip is — is Marrakech safe for female travelers? Playing with camels in the desert and getting lost in the ever-winding maze of the souks is the most magical feeling. But there are definitely some things female travelers (and all travelers really, need to be cautious about.
Although Morocco quickly made its way to the top of my favorite countries list, I found myself being more guarded than not. I don't want to interject advice that could negatively change your perspective on this beautiful country. But instead, I will relay some stories that I've experienced. And from there you can gather your own opinions of whether or not Marrakech is safe for female travelers. Morocco is hands-down one of the most remarkable places I've ever been, and I very quickly came back a second time around. So to answer based off my experience– YES, Marrakech is safe for female travelers. More importantly, I wouldn't say it is "dangerous." I never felt like my life was at risk or I was in danger and harm's way. But there are things you need to be aware of and be cautious of!
---
STRENGTH IN NUMBERS
The first time I visited Marrakech, I went with one girlfriend. The second time around, I was part of a group of 4. There certainly is strength in numbers and I felt significantly more laid back, the second time. Chances are, it was because there was a male presence in this group of 4. My friend Cherrie's husband, John Rick, was with us. And having him there, men in the busy souks were less aggressive towards us.
If you are going to Marrakech as a female, I would highly recommend going with someone, and not traveling solo. But if you are a solo traveler, I personally still think you'll be fine. You'll just have to be extra cautious.
---
Be Cautious With Who You Get Directions From
I tell this story to almost everyone who asks me if I felt safe in Marrakech as a female traveler. And this experience was from the first time I went. The souks are bustling and wild, and there are people pulling and yelling towards you in every direction.
My friend and I were trying to make our way back from the markets to our hotel when five or six kids, all about five to six years old came up to us, offering directions. We were obviously lost. I had my face glued to my phone trying to navigate to the main road. And who wouldn't trust children right? We told them we were looking for our Riad and they told us to follow them. Boy, were we wrong. These kids led us in the entirely opposite direction and deeper into the alley ways for at least 15 minutes. They kept saying they know a shortcut or knew where they were going. By this point, we were so turned around and confused. Suddenly, we were conveniently passed off to someone else, who then forced us into giving them money in exchange for the right directions.
Being tricked by adults is one thing, but by children? So disheartening. The kids led us to another guy, who actually knew where we wanted to go and walked us there. We thought we'd give him some money for his help, but when we gave him 20MAD, he quickly wanted 100. Then out of nowhere, another one of his buddies came up and began yelling at us for not giving him enough for his "services." Luckily, we were already back at our Riad by then, and the hotel workers came to our defense. They immediately told us that if we have to get directions in the future, only ask women and shop owners. The reason? Shop owners can't physically leave their stores to lead us astray.
But to be fair, if the Riad workers weren't there to shoo them off, I don't think I would have been fearful for my life or worried something terrible would have happened. At the very worse, they would have continued badgering us for money and I'd give up and give it to them. In this exact moment– did I feel safe as a female traveler? Not entirely. But did I feel like I was in a life threatening position? Not really.
---
GOING THROUGH THE SOUKS / MEDINA
Marrakesh is known as "The City of Thieves," but to be honest, I didn't feel like it is. I'm more worried about my belongings in places like Paris and Barcelona (and I HAVE been pickpocketed in Paris). But I will say that there are a good amount of cunning and manipulative locals hidden amongst these alleys.
Sometimes while we were walking, random locals would just shout at us, unwarrantedly. "The Square is this way," or "go this way for the Souks!" There were a few times when we were told "the souks is on the right," but we just came from the souks on the left. So we knew they were lying to us. They just wanted us to get lost and confused, so we could get passed off to another set of people for more money. Or they wanted us to head down in the direction of one of their friends' stores.
At the end of the day, I think what they really wanted, was to make a sale. So as far as safety goes, especially in Marrakech and the Medina, it is more about the money. I truly don't think they mean harm by their assertiveness.
I will also make a note that that getting lost in Morocco is part of the experience. You kind of need to get lost. But when you are ready to leave, make sure you have your offline maps downloaded! Google Maps will be your best friend. It's got every tiny corner, every winding alley down pat in the app. Just don't keep your eyes glued to your phone– it's a tell tale sign you're lost.
---
Dress Appropriately
Morocco is predominately a Muslim country. And although it can get very hot in Morocco, you can't, or rather, shouldn't dress accordingly with the weather. I packed a lot of what I considered culturally appropriate dresses. My dresses fell below my knees and my shoulders were always covered. We were all careful to not have any tops that showed cleavage while walking the souks.
Despite this, we still got an endless amount of unwanted advances and aggressive comments about how we looked. Regardless, we were very careful to always have a shawl, cardigan, or scarf wrapped around us at all times. We did take them off for photos (with the exception of religious sites, we stayed appropriately dressed). Sunglasses can also help too, even accidental eye contact may lead to someone following you around.
Also, in regards to tattoos, I would recommend covering them up. I had someone coming up to me every couple of minutes to talk to me about my tattoos and even touch them. Especially in the Medina, this began to get very exhausting. All the unwanted poking and prodding was too much to handle. Someone even asked Cherrie and I if we were Yakuza, most likely because of our tattoos?
---
Don't Be Afraid to Be Assertive
The markets are filled with men who will follow you, grab your hand or arm, and force you into their store. It's hard to leave without feeling pressured into buying something. I was originally fearful of being rude by saying "no" too much or not smiling back. But after an hour or two, their aggressive behavior can really took a toll. The second day that we walked through the Medina, we felt much more experienced. Even though we were covered head to toe, we still had several men following us for at least a couple minutes at a time, telling us how to get to the souks, the square, the outskirts. Just say no very sternly and continue walking. Eventually, they'll leave you alone.
From my experience of being in the souks, you just have to match their assertiveness and aggression. I found myself no longer smiling, and not stopping to speak to too many people. Even while in the stores just looking around, they were definitely hovering and trying to get us to buy something. A hard "no" will get them to back off though! But when it comes to safety in Marrakech and the medina, I never felt like I was in danger. I just felt like they were trying to make some money and make a sale.
---
IS MARRAKECH SAFE FOR FEMALE TRAVELERS?
We met plenty of people who were kind. Plenty of people who gave us the right directions. And plenty of people who were truly welcoming and informative, from store owners to taxi drivers. It's always going to be some kind of balance, and you can always find yourself in a tricky situation, no matter where you are in the world. That's part of the risk of venturing to a different country. But it's most important that you know what to expect so you're fully equipped while you're there.
TRUST ME when I say, Marrakech can be one of the most fun cities if you let it be. It's a game of charm, so embrace it, run with it, laugh with the locals, and just let it be!
---
Save this Post for Later