3 DAY ITINERARY IN ALGARVE
With no hotels booked and no itineraries, I made my way out to the southernmost point of Portugal to explore the Algarve Region. I had no real plan in mind—I just knew I wanted to rent a car, follow the coast, and see where the open road and my free mind could take me. This 3 Day Itinerary is written for a perfect long weekend escape, but one can easily spend a week here!
Before you dive in, here is everything you need to know before you begin the 3 Day Algarve Itinerary!
---
KNOW BEFORE YOU GO
Best Time to Visit: April to May or September to October is the best to go for crowds and comfort. Weather is in the low 70's, so it's extremely comfortable, and it won't be too crowded yet. These times would be considered "shoulder season." The warmest months are June to August during standard summer season, but expect major crowds! If you are planning on swimming, surfing, and diving right into the water, summer is best!

Weather: Even Portugal winters are considerably warm for Europe with coldest temps in the 40's at night. But even during the day, it doesn't drop below 50. Rainy months are typically October to April.

Getting Around & Transportation: For exploring the Algarve, I would highly recommend a car rental. You can rent plenty throughout the beach towns but because there are so many beaches that are far apart, having your own car is most convienent. Ubers are extremely affordable but aren't as frequent between towns. There is also metro lines & trams everywhere and large greyhound-type buses that will take you from town to town.

Currency: Euros; major credit cards accepted (not AMEX)

Languages: Primarily Portuguese; English widely spoken

Common Phrases:
Bom dia/Boa tarde/Boa noite — Good morning/afternoon/night
Olá — Hello
Tudo Bem? — How are you?
Por Favor — Please
Obrigado/a — Thank you (masculine / feminine)

Airports: Faro Airport — the only airport in Portugal's Southernmost Region
---
Transportation
I personally flew into Lisbon, but if a direct flight from Faro was an option, I definitely would've opted for it. From Lisbon Airport, I took an uber over to the Sete Rios Railway Station (10 minute drive), and hopped onto a direct bus. The buses to the Algarve are decently nice with space for your luggage in the overhead compartment. The seats recline, and some buses also have outlets. It cost 15 euros at the time.
It's actually much more common to take the bus down to the Algarve than the train. Most buses are actually faster because there are fewer stops than the trains. I also didn't have to worry about pickpockets or theft because my bus was basically direct. First stop in 3 hours, second stop and I'm in Lagos! You can also pick your seat, so of course, I chose the window.
I used the Rede Nacional de Expressos or Redexpress bus! You can book your tickets here.
Once I arrived in the Algarve, I rented a car to drive through the beach towns with LuzCar. Just keep in mind that most cars here are manual, so if you only drive automatic, book early! The prices will also be higher. And don't forget to have your international driver's license (an easy process online).
To book your car rental through LuzCar, click here.
---
Where to Stay
There are so many different beach cities and towns along the Algarve that it can be stressful to figure out which one to make home base. With a short 3 Day Itinerary in the Algarve, I would pick Lagos or Faro. Lagos, however, is more central to some of the most iconic beaches in the region. Here is the breakdown of some of the main towns.
Lagos: Lagos is one of the key trading ports in the Algarve, and where you'll find some of the most beautiful beaches. But not only that, there is also incredibly beautiful Moorish architecture in the town. With winding roads, it has the quintessential maze like feel while walking through the streets.
Faro: Algarve's historical capital! Faro is where the airport is, so it is quite frequented by tourists. But not only is it convenient to stay here, there are plenty of other reasons to visit. From the famous old town to where most of the ships leave out of, it's definitely worth it to stop by. Faro also has some super cute Airbnbs and B&B's that are modern and upscale. A good escape from the older neighborhoods.
Albufeira: Definitely the place to go if you are with a younger crowd who loves nightlife! It's a peaceful fishing village by day, but high energy and vibrant by night. There's also a long line of jagged cliffs and you can do day trips on boats from here.
Portimao: Definitely the place to stay for those who love adventure. Portimao is a huge surfing destination, and also the best place to kayak if you are looking to visit Benagil Caves.
Here are my top picks for Airbnbs in these towns!
Lagos: Renewed Apartment with Terrace
Faro: Casa de Lavanda
Albufeira: Ocean View Luxury Apartment
Portimao: Arade Riverside Modern Apartment
I was a little indecisive between Lagos and Faro, but Lagos is significantly more central to the beaches I wanted to visit. I couldn't have been happier with my decision, as three of my favorite beaches were less than a ten minute drive to my doorstep.
The Airbnb that I booked was extremely comfortable and had everything I was looking for. Since I rented my car, having easily accessible parking was my priority. I also knew I was going to be staying for at least a few days, so I wanted to have a spacious work environment with lots of natural lighting so I could clear my head, work, and journal.
View more hotels for the Lagos area, here.
---
DAY 1 of 3 DAY ALGARVE ITINERARY
EXPLORE LAGOS
Within a 15 minute drive is probably among some of the best beaches you'll ever visit in your life. They certainly were mine. Praia do Camilo is the iconic beach in all of Lagos, and should be your first stop for sunrise. Trust me, it's dreamy!
PRAIA DO CAMILO
Tip for Praia do Camilo: Because this beach was less than a 5 minute drive from my Airbnb, I stopped by here multiple times. When I visited during sunrise, there was not a soul in sight, and the beach was empty from 6AM to about 9AM. There were occasional people who stopped by and took photos, but no one stayed for long. It was surprisingly super easy to get all the photos I wanted here!
PRAIA DONA ANA
From here, Praia Dona Ana is extremely beautiful and well worth the visit! Like most of the beaches in the Algarve, Praia Dona Ana is enclosed by beautiful and dramatic cliffs and crystal clear waters. There is a staircase the leads down to the water front. During the summer months, beach chairs are put out for rent. This beach is known for sunrise paddle boarding and kayaking!There's a lot of kayaking, stand up paddle boarding, and surfing to be done on this beach as well!
PRAIA DOS ESTUDANTES
Praia dos Estudantes is one of the more unique beaches in the Algarve Region. After walking through some hand carved rock tunnels, you'll find the cliffs opening up to a bridge that connects two rock formations. That specific area is small and the tides can be a little high, so it isn't the best area to lay out.
---
DAY 2 of 3 DAY ALGARVE ITINERARY
For day 2 of the 3 day Algarve Itinerary, we are heading West! But first, let's watch the sunrise from the most breathtaking beach in Lagos!!
PONTA DA PIEDADE
The rock formations in the backdrop of Ponta da Piedade are unreal. During the warm summer, you can swim and kayak from one beach to the other!! During the harsher months, the waves will be too rough to swim, but it is still so beautiful nonetheless.
Cabo De Sao Vicente
Off to Cabo de Sao Vicente! Also known as "Cape of St. Vincent," this place is the Southwestern-most point in all of Europe. It's located in Sagres, and also nicknamed "End of the World." It's about an hour drive from Lagos, but completely worth it!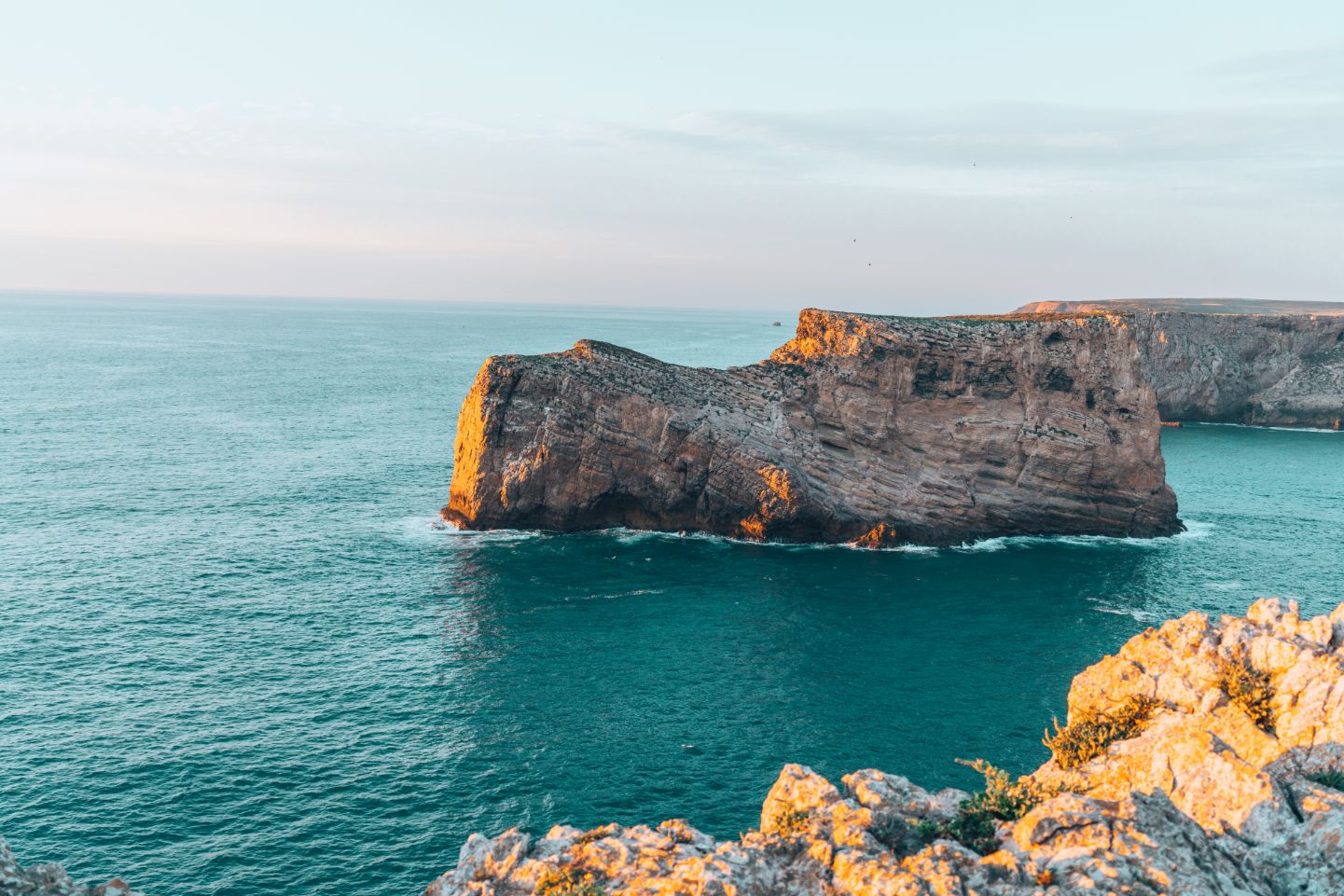 Tip for Cabo St. Vicente: It can get really crowded, a major tourist hot spot! Parking is super easy though, and it's better to park a little further and walk. A lot of people love coming here for sunset, but it's also beautiful for sunrise!
While in Sagres, there's also a super cute wall of plates in the town that people always take photos of. And make sure you stop by Three Little Birds and A Sagres for some yummy brunch!
Praia da Bordeira
Praia da Bordeira is famous for the long boardwalk. It's about an hour away from Lagos, but if you go to Cabo San Vicente, you might as well go come out here. Head up North about 30 minutes and you'll get to Bordeira! This beach is unlike the others in Algarve because it doesn't have the same cliffs in the water, but it does have dune fields as far as the eye can go. It makes for a very relaxing retreat just because of how spacious it is, and you'll definitely find peace and quiet here. This beach is also huge on surfing, so this would be the ideal spot to take a lesson or kayak around!
---
DAY 3 OF THE 3 DAY ALGARVE ITINERARY
BENAGIL CAVES
Benagil Caves is an absolute must when visiting the Algarve. The only way to get to Benagil is via a tour group. (Or if you're an insanely talented and strong swimmer but it can definitely be dangerous). There are plenty of different tour methods though that would cover all physical skills and ages. You can access Benagil via boat tour, kayak, and even stand up paddle boarding! Most of the boats (various sizes) depart out of the Portimao Port. Some of the smaller boats can take you straight into the cave and they average about 2 hours.
Keep in mind that the cave is relatively dark in the morning, as part of the cave collapsed to form this hole! Going early definitely means an empty cave, but it also means super low lighting. The best light would be around noon, but of course you'll be faced with crowds.
Because of the nature of the tour and the time it gets to Portimao, it'll probably be a half day excursion once you wrap up Benagli. Enjoy some lunch in Portimao and explore the town. By then catch sunset at Praia da Marinha!
Praia de Marinha
Praia da Marinha is probably the prettiest beach I've ever laid eyes on and its been voted one of the most beautiful beaches in the world, time and time again. You can drive up immediately to the top of the rocks and there is a staircase to the far left that brings you down to the water.
Praia da Marinha is infamous for this "M" shaped rock, also known as the Cathedral. When the tide is low, you can walk directly up to the rock! The tides can rise very quickly, so just be careful when you are navigating your way around them.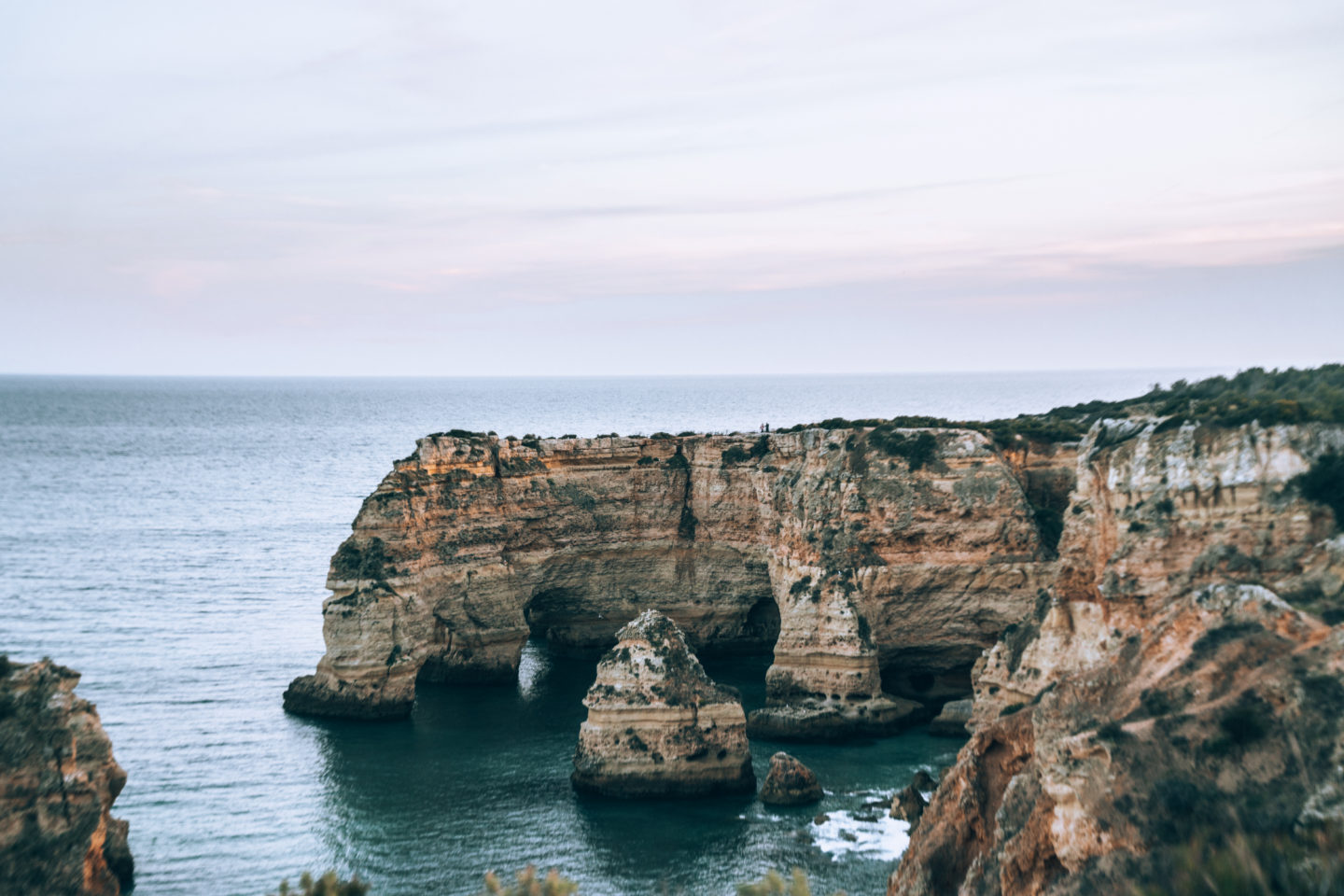 If any of you guys followed along on my Instagram stories, you'll know that this was the last photo I took before my tripod fell off the cliff due to a huge gust of wind. RIP to my Tamron. Worth the pink skies though, I think.
And that's a wrap for 3 jam packed days in the Algarve Region! Let me know if you have any more questions about Lagos or this area in the comments!! Thanks for reading, and let me know if you end up doing this 3 Day Itinerary in the Algarve region! xx Jules
---
LIKE THIS POST? SAVE FOR LATER
---