Luxury Camping in Morocco: 24 Hours at Scarabeo Camp
Desert Camping in Morocco has been a bucket list for me for as long as I can remember. Before having any details of our trip sorted out, like how many days I was going to be in Morocco, or which cities I would be visiting, I knew one thing for certain. I was going to camp out underneath the stars in the desert. And even better? Camping in Morocco at Scarabeo Camp. 
One of the most popular places to go desert glamping/camping is in Merzouga, located deep within the Sahara Desert. But it is a 9-12 hour drive/train from Marrakech. Not to mention, they discontinued the overnight train service that will take you there. Being on a tighter time schedule, I decided I needed to look for alternative locations that wouldn't take up as much travel time. Lo and beyond, Scarabeo Camp came along and sept me off my feet.
Scarabeo Camp offers the same luxury camping experience in the Agafay Stone Desert as you would have out in Merzouga. And for such a great price, and a quick and convenient 1 hour drive drive, it is 100% worth it.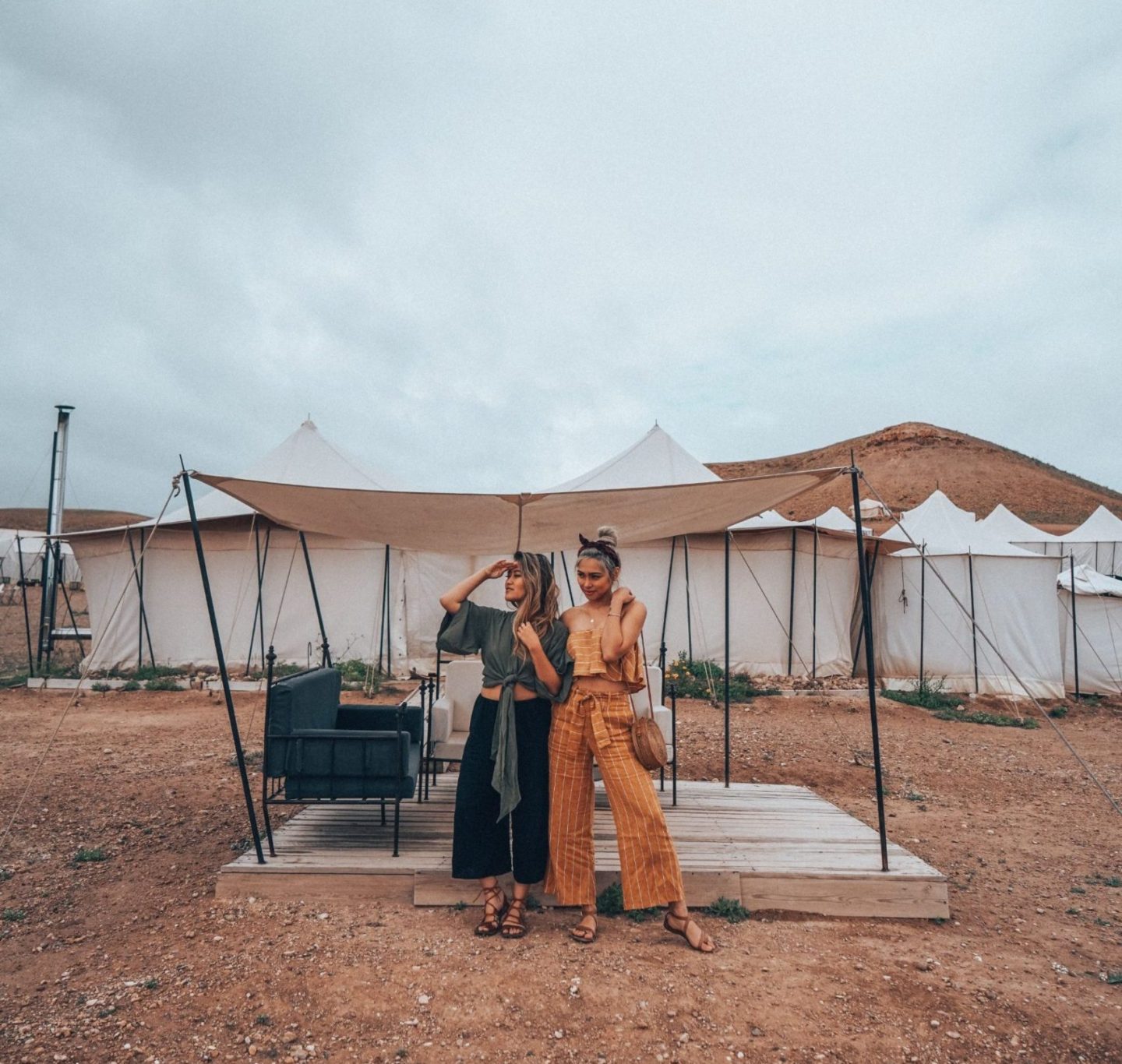 Here's the basic rundown of what 24 hours in Scarabeo Camp would look like!
---
Check In TO SCARABEO CAMP—3PM
Checking into Scarabeo Camp varies from noon onward depending on what package you buy. Transportation is offered at additional costs (I highly recommend taking the side car or the Jeep Wrangler!!) Upon my second time visiting the camp, Mustafa, the same overseer from the first visit, greeted me with the biggest smile and a warm hug. He brought us Moroccan mint tea and baklava, and took us to the main tent, which is the equivalent of the hotel lobby area.
You can spend hours exploring every nook and cranny of the lobby area. From vintage cameras to suitcases, to old & used books, there's something for everyone. The furniture within the tents were all Moroccan style from the rugs to the beautiful throws.
---
Play With Camels—5PM
You can book a camel ride at Scarabeo Camp. I would highly recommend going during sunset– it's an experience like no other! I did it my first time in Morocco and LOVED the experience. The second time, I stayed behind to watch the sun set from the camp site. 
I sat outside by a campfire and Mustafa even wrapped a blanket around me when he saw me taking in the views! The sweetest, right!? As I was drinking my Moroccan mint tea, waiting for the sun to set and staring at the rolling hills of the stone desert, I realized that my dreams had come true. Camping under the stars in Agafay Desert is a feeling like no other.
---
DINNER BY CANDLELIGHT – 7PM
Around 7PM, everyone in the camp began to slow down with whatever other activities they decided to do, such as ATV riding, hiking, or drinking tea and began gathering around for dinner.
The dinner was purely by candlelight, and hosted in the main tent. We ate vegetarian traditional Moroccan soup and freshly baked bread, followed by vegetable tajin and chicken tajin, and then finished with a fresh fruit tart! I want to especially thank the staff because it seems as though Mustafa and two other workers served the entire campsite, and I saw how hard they were working and how much they were able to accommodate everyone's requests. They are such amazing and kind people!
When we finished our dinner, we headed back to our tent and the fireplace was already started. All of the lamps on the outside paths were lit up. It was absolutely beautiful!
---
NIGHT TIME PHOTOGRAPHY – 10PM
"I know nothing with certainty, but the sight of the stars always makes me dream."
Of course there is no better time or place than to practice astro-photography. The desert is so beautiful and clear in the night. We shot between 10PM and midnight, but after an hour, we were so cold and our fingers were too frozen to continue. Here is my best un-edited photo! A little blurry, but I'm still proud.
---
THE NEXT MORNING: BREAKFAST – 8AM
Breakfast is served promptly at 8AM, where we had eggs, different styles of breads, different jams and jellies, cheeses, and fresh juice.
---
HIKING AROUND SCARABEO CAMP – 10AM
After we finished our breakfast, the gals and I got ready and we went to hike some stone mountains surrounding the campsite! We literally scaled the side of a mountain in our sandals and bathrobes (cause it was still so cold in the morning), only to find out that there's an entire trail right around the corner.
---
Free Time & Check Out—Noon
Depending on what time your check out is, (I believe most people leave around noon,) you can arrange to have lunch at Scarabeo Camp. We stayed for lunch, which included traditional Moroccan cuisine in the form of couscous, falafael, lentils, grape leaves, freshly baked bread, and cucumber tomato salad. We also had chicken skewers, which were delicious! Afterwards, we hung out, walked around, took some more photos until our Jeep came to pick us up and take us back to Marrakech.
---
Some Additional Information
CAPACITY— Book AS SOON as you know you are going. I found that it was easier to e-mail them directly rather than filling out their form on their website. Secondly, the camp site has significantly grown in a year's time, so there's probably more space to accommodate people!
ELECTRICITY—The first time I went, there were absolutely no outlets with the exception of the office so we would have to give Mustafa our phones so he could charge them when we were out of juice. But it was actually really nice being off the grid in that way. There's also no service to begin with, so it doesn't matter much if your phone dies. But camera batteries, people! Now, they've installed outlets into the tents, and also put in fire pits to warm you up at night! It's amazing to see all these renovations in just a year's time! I still recommend a portable charger though.
DINNER–If the camp is full to capacity, you can actually still come onto the campsite during the day and enjoy dinner and star gaze at night. I'm not entirely sure how the pricing goes, but it's better than nothing if you can't get a tent.
---
For more information on Scarabeo Camp, check out their information down below!
Website: http://www.scarabeocamp.com/
Phone Numbers: +212 (0)662 800 823 / +212 (0)662 800 874
Instagram: @scarabeocamp
E-Mail: [email protected]