5 Day New England Road Trip Itinerary
Nothing screams the fall season more than a road trip to New England. From the crunching sounds of orange and yellow leaves, to the gorgeous barnyard backdrops, to the tastiest apple cider donuts, New England will leave you wishing the season lasted year round.
Navigating through New England and the changing of colors can be fairly challenging though, as there is no way to know when the exact dates the leaves will start changing colors. The weather will vary from year to year, and sometimes peak season can vary between late September to late October as well.

This is a trip you'll definitely have to approach with an open mind, but I am here to help you make the most of your trip! Based off my experience, I've found that a 5 day New England road trip is the best, and you can always modify or adjust this itinerary to your own dates. So let's get started, I'm excited!!
---
Tips for the Trip
1. Fall Foliage Tracker Map
The CNN Fall Tracker is the best way to know when and where fall foliage will be at its peak. The legend categorizes the map from minimal change to past peak. This will help you pick your when and where! If you have a specific set of dates free for a trip like this, it'll help you determine what part of New England is best suited for you! For example, it would be heart breaking to book a trip to Vermont to see fall colors, only to show up to brown leaves and dead trees.

If you aren't sure you can make Peak Foliage, I recommend going earlier than later. The views will be significantly prettier with green trees and slight yellow/orange, over dead branches and no leaves. Slight foliage > no foliage. Based off the last couple years, the first week of October seems relatively safe!
To access this map, simply google CNN Fall Foliage Tracker Map.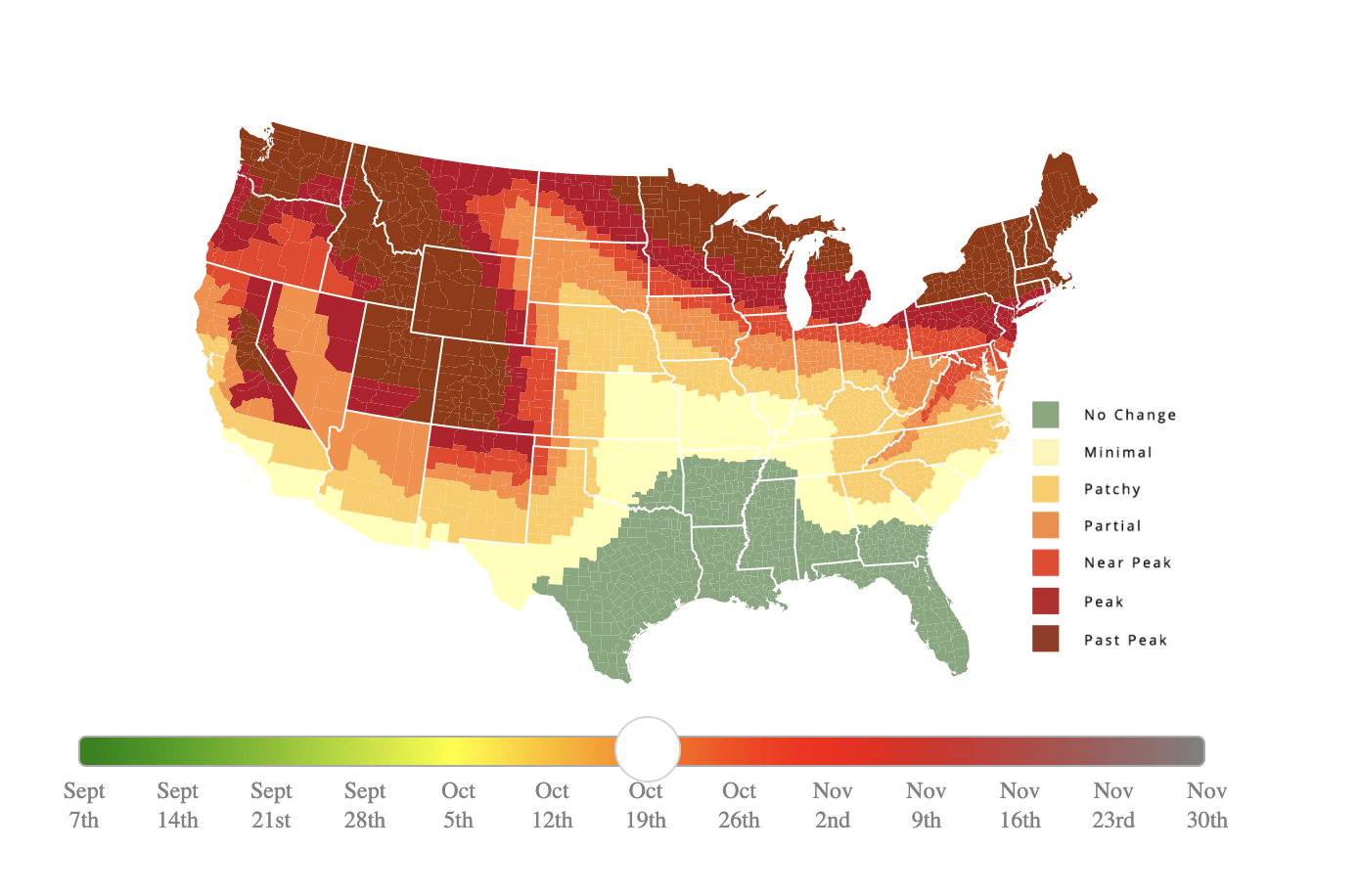 2. Hotels & Accommodations
Because the dates for fall foliage vary year to year, it can be challenging to book accommodations too far in advance for fear you won't be there during peak season. But unfortunately, there is a limited amount of Airbnb's and hotels in the area. If you book too late, you might be left with slim pickings and less cute stays/ much older hotels.
1-2 months in advance would be your best bet for advanced booking. But if you are thinking of staying in a dreamy A-Frame Cabin or an extremely adorable cabin in the woods, you might have to book at least 3-6 months out. (Of course you run the risk on not being there for the peak, but this is the gamble that comes with a fall trip.
3. Restaurant Reservations
A lot of the towns in Vermont and New Hampshire are so small and few and far apart. You can drive through an entire town in a matter of seconds, that it can be challenging to find a sit down restaurant on a weekend with availability during busy season.

Our first Saturday night in Vermont, we called 3 different restaurants for reservations, and they were fully committed for the evening and we couldn't even get our names on a waitlist. We ended up having to order take out and bring it back to our B&B so just keep that in mind!
4. Weather
The fall season already warrants slightly colder temperatures, but if you have some hikes planned, make sure you pack some kind of down jacket or rain jacket with a hood! You never know what you might catch. The weather varied from low 30's to high 70's when we were traveling around New England!
---
Day 1 of the New England Itinerary
Day 1 Itinerary
Arrival: Los Angeles (LAX) to Boston (BOS)
Enterprise Car Rental
Breakfast at North Street Grill
45 Minute Drive time to Salem, Massachusetts
Coffee at Brew Box
Explore at Chestnut District & the Witches' House
45 Minute Drive back to Boston, Massachusetts
Explore Beacon Hill
Dinner at Regina's Pizza
Drinks at Bell in Hand Tavern
Stay at The Wyndham Hotel in Beacon Hill
BOOK YOUR HOTEL IN BOSTON HERE
Trey and I took the red eye from LAX to Boston (5hrs) and arrived into Boston at 7AM. Our car rental was booked through Enterprise. If you're planning on spending time in Massachusetts/Boston, don't forget to include a Fast Track Toll Pass, it's completely worth it! Our friends Dani and Juan were flying in from Miami and weren't scheduled to land until 10AM so we had a couple hours to kill. We ate breakfast at North Street Grill. Their brie stuffed apple french toast is to DIE for! Then went to Trader Joe's to pick up some road trip snacks.

As soon as they landed, we picked them up and were immediately off to Salem! To be completely honest, Salem, to me, was very underwhelming. The cutest part was the Chestnut Street District, where all of the gorgeous historical houses are. There, you'll also find the famous Witches House, which was closed when we went. If you have the time, there are plenty of walking tours and movie tours. Hocus Pocus was filmed in this little town and you can do a tour of scenes that were filmed there.
Outfit Details: Steve Madden Boots HERE, Plaid Skirt HERE
Don't forget to stop by Brew Box for a quick oat-milk latte pick me up.

We headed back to Boston in the evening, and checked into our hotel at the Wyndham Boston Beacon Hill. We headed over to Beacon Hill to look at some of the super cute houses, and for dinner, we had one of the best pizzas I've ever had at Regina's Pizzeria. You HAVE to try the Shrimp Scampi Pizza!! We ended the night at Bell In Hand, which is America's very first tavern, and had some oysters and beers.
Outfit Details: Black REVOLVE Dress HERE, Classic Stan Smith's HERE
---
Day 2 of the New England Itinerary
Day 2 Overview
Breakfast at 3 Little Figs for breakfast in Boston
Drive from Boston to Manchester, Vermont (3 Hour Drive, 150 Miles)
Equinox Valley Nurse & Farm
The Historic Route 7A
Drive fromDrive from Manchester to Woodstock (1 Hour, 20 Mins, 50 Miles)
Sleepy Hollow Farm
Route 100
Drive from Woodstock to Stowe (1 Hour, 20 Mins, 70 Miles)
Route 100
Stay at Butler's House & Butler's Pantry
We stayed at the CUTEST Bed & Breakfast in Stowe, Vermont called Butler's House. It was so charming, and will give you a true small town New England experience staying there. It's also located right above Butler's Pantry, which is an All-American Breakfast Cafe that I HIGHLY recommend, the food was so delicious! We also only spent 1 day in Vermont, but this state for fall foliage really deserves two! So here is everything to do there!
BOOK OUR BED & BREAKFAST AIRBNB HERE
Before hitting the road, we stopped by 3 Little Figs Cafe for breakfast– their cheddar egg biscuit is definitely a highlight! Our first stop was 3 hours in, at Manchester, Vermont. We stopped by the Equinox Valley Nursery for their famous apple cider and apple cider cinnamon donuts and we were NOT disappointed. I am still dreaming of those donuts today. If you go, make sure you get a dozen! I promise you will not regret it.
One of the best parts of the drive up through Vermont are the beautiful roadside stops. This pull out was between 7A and Route 100! We saw it as we drove by, and immediately made a U-Turn to stop by this scenic lake. It was breathtaking!
Outfit Details: Wide Brim Hat HERE, Levi's Wedgie Fit Jeans HERE, Steve Madden Chelsea's HERE.
After leaving Manchester, we drove up towards Woodstock to head to the famous Elm Grove Farm (Sleepy Hollow Farm). It was super beautiful, but extremely touristy & busy. There must've been 20+ cars along the side of the road to capture the light shining on this farm. It's private property and gated, so this is about the closest you can get to the farm. To be honest, I found it a little underwhelming and over crowded to truly enjoy. Some of the cutest side of the road shots can be found in Woodstock towards Stowe, so make sure you take your time driving through!
Two spots I would've LOVED to stop by in Woodstock are the Cafe Lafayette Dinner Train and the Woodstock Middle Bridge. If you have extra time to stop here, be sure to add it onto your list of places to visit!
The photographs above are courtesy of Carter Fish @carterfish.
---
Day 3 of the New England Itinerary
Day 3 Overview
Stowe, Vermont
Salon Salon
Smuggler's Notch
Montgomery's Covered Bridge Capital
This was the day that we wished we had but didn't! If I could go back and add an extra day of exploring Stowe, I 100% would and I highly recommend you do the same! The spots above are the locations I would've loved to visit!
The photo of Salon Salon is taken by Christine Tran Ferguson of @tourdelust
FOR MORE HOTELS IN STOWE, CLICK HERE
---
Day 4 of the New England Itinerary
Day 4 Overview
Breakfast at Butler's Pantry (10/10! So good!)
Drive from Stowe Vermont to White Mountains, New Hampshire
Artists' Bluff Trail (1 Hour, 30 Mins, 80 Miles)
Lunch at Half Brewed, Fully Baked
Drive through Kancamagus Pass (30 Minutes, 25 Miles)
Drive to Rocky Gorge Scenic Area & Swift River (20 Minutes, 15 Miles)
Dinner at Idletyme Brewing Company
BOOK YOUR HOTEL IN THE WHITE MOUNTAINS HERE
We drove back to Vermont after our day in New Hampshire, but there are a TON of gorgeous Airbnb's and hotels in the White Mountains area. Our first stop in New Hampshire and the White Mountains is Artists' Bluff (one of my favorites of the trip!) It's a quick and slightly steep hike that takes you to the overlook of Franconia Notch State Park. There's plenty of parking across the street, and the hike is only about a mile long. Make sure you bring a jacket, it can get extremely windy up top!
Outfit Details: Balloon Wrap Sweater HERE, Soft Leather Doc Marten's HERE
After the hike, we drove towards Lincoln and had lunch at Half Baked and Fully Brewed for some much needed coffee. They have smoothies, coffees, and all kinds of sandwiches.
Next up is the Rocky Gorge Scenic Area in the White Mountains National Forest. The river is the Swift River and if you continue walking along the trails, you'll get some gorgeous views of the Falls Pond. There's an entire parking lot for the Rocky Gorge and it's a quick walk to this spot and you can continue hiking deeper in.
On the way back to Vermont, we drove back through the Kancamangus Highway and stopped the car at a couple different scenic overlooks. Take your time driving through because these quiet and simple moments were some of my absolute favorites. After driving through New Hampshire and back towards Vermont, we ended the night by having dinner and craft beers at Idletyme Brewing Co., which was highly recommended to us! We all had burgers (they have plant based), and truffle mac and cheese. It was a perfect way for us to end our night!
---
Day 5 of the New England Itinerary
Day 5 Overview
Head back from the Vermont & New Hampshire area back to Boston (200 Miles, 3 Hours)
Breakfast at Tatte Bakery
Wander around Boston Commons
Boston Public Garden, Quincy Market
Dinner at Crudo Sushi, Dessert at Mike's Pastries
Today is go-home day! We took it easy by eating our way through Boston and wandering around the city. If you have time to stay in Boston and explore, I'd highly recommend it. The food scene here is great and Boston the best city vibes. In the evening, J and Dani took a flight back to Miami as we made our way home to Los Angeles.
---
Need Some Clothes Inspo? Shop My Faves Below!

---
LIKE THIS POST? SAVE FOR LATER!