Glamping in Joshua Tree: Lazy Sky Teepee
I have always been obsessed with all things camping, glamping, and sleeping out underneath the stars. With so many beautiful desertscapes all over Southern California, I immediately found the perfect Glamping in Joshua Tree. This little tipi below is called The Golden Moon, located at the Lazy Sky Boutique Retreat in Yucca Valley.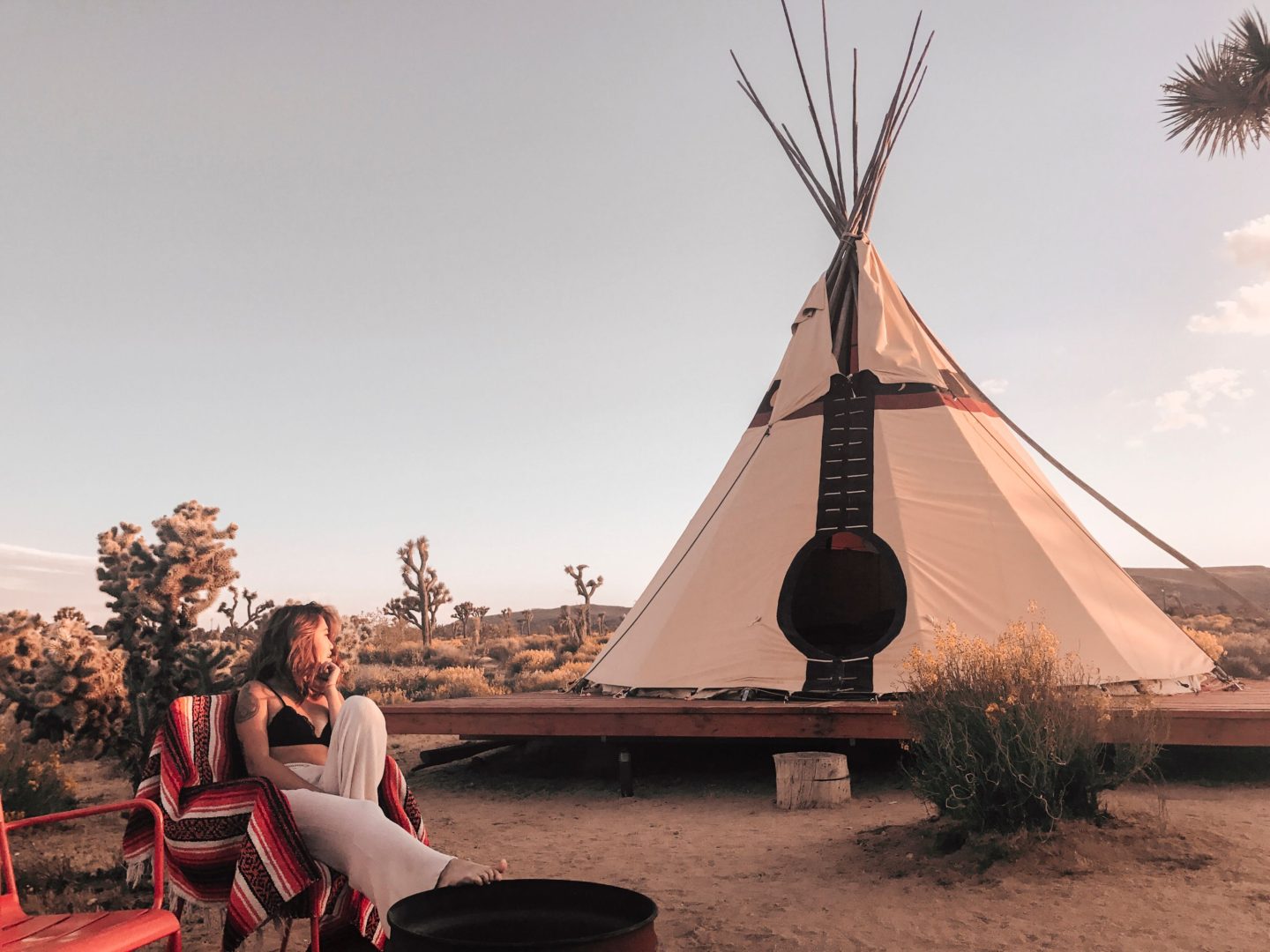 The Lazy Sky Retreat stretches a total of ten acres and houses two tipis, two glamping tents, and one yurt. Set up against an elegant and simple backdrop of Joshua trees and yellow shrubs, each unit offers a private, mystical and enchanting getaway into the desert. The insides of each unit are uniquely decorated with carefully and intentionally chosen furniture. From Moroccan and Native American inspired lamps and rugs, the entire set up gives a unique gypsy desert feel. This Glamping Airbnb in Joshua Tree offers a ton of privacy per tent, while having a communal space that makes for a comfortable campsite combination.
---
Tips for the Trip
FOOD: Lazy Sky Retreat has a full communal kitchen for all the guests to share. They provide cutlery, pots and pans, a french press, a toaster, and shared refrigerator. If you want to cook a full meal, you definitely can! They have a stovetop in the kitchen and a grill out front. They also offer complimentary spices & seasonings as well. Just make sure, like always, you clean up after yourself 🙂

We packed a couple bottles of wine, some bread, fruit, and cheese, and my favorite, Hot Cheetos! There is also a Yeti Cooler inside each individual tent.
HEAT & ELECTRICITY: Each unit (whether it's a tipi or a yurt), comes with its own set of outlets, and outlets in the common area. And although it's in the desert, the temperature can drop to the low 50's at night. Joshua Tree is also known for its incredible winds. Our tipi had a heated blanket and a heater inside (life saver!) They also provide spare blankets if needed!

There are also fans inside the tent for summer time. Just keep in mind it can still get super warm, so make sure you have enough ice and water to stay hydrated!
HYGIENE & CLEANLINESS : I know glamping isn't for everyone but trust me when I say this Joshua Tree Glamping experience is luxurious. There is a private outdoor shower, indoor restrooms with a flushing toilet, and two sinks. And have no fear, it is extremely clean and well kept.

BUG WARNING! Be careful of all the fire ants and bugs! We kept our tipi closed every time we left so no creepy crawlies came inside, but there are fire ants all over the desert. And of course, just the nature of being outside and glamping, expect that you'll encounter some critters. Bring bug spray or some peppermint oil to repel 🙂
---
The Campsite
Check-In for Lazy Sky is at 3:00PM. The campsite is not difficult to find considering you'll see the tipis once you drive down the main road. There's a small parking lot and a trolley you can use that will allow you to make one stop into the tent with all of your belongings.

When we checked in on a Monday, three of the five units were occupied. I highly recommend booking ahead of time because these spots are quick to go!
---
A Closer Look at the Tipi
We booked the Golden Moon Tipi at Lazy Sky (the cutest one, in my opinion! hehe). The inside of the tipi is super charming, and it has plenty of blankets, chairs, and a hammock out front. There's also a propane fire pit for night time!

The tipi comfortably sleeps 2, and my only real advice is to make sure you bring bug spray and keep your tent as closed as possible! Even if you are just walking to the kitchen, seal up the tent to prevent bugs from crawling in.
---
Sunset Hour
The best thing about the desert? Long and dreamy sunset hours! The sun didn't begin setting until 6:00PM, but it didn't get fully dark until around 9. We sat outside with our blankets and enjoyed the peaceful desert sky as the sun faded and the stars began to shine.
If you love night time photography, this is also the place for you! I've seen many sunsets around the world, and being in the Lazy Sky Boutique Retreat was one of the most beautiful. There is something so magical about sunsets in Joshua Tree National Park, and I'm telling ya- glamping adds an entirely new layer. And once it became fully dark, we began our look out for shooting stars.
---
More about the Owners
Annie and Tony, owners of Lazy Sky Boutique Retreat, opened up this campsite Fall of 2015. They had been visiting Joshua Tree from Los Angeles for years before they decided to buy a house that will allow them to be in the area more often. Knowing that camping isn't for everyone, they came up with Lazy Sky Retreat. A place that will allow their guests to balance the comfort from the home while having access to the quiet nature found in the desert.
With Tony's background in designing and their shared love for antiquing, this couple finds themselves constantly revolving the furniture out between tents. "We want to make sure it doesn't get shabby even though it's glamping so it gives us a great excuse to antique while we travel. We just got two new pendant lamp sets that we're trying to decide where to put–it's so fun to change up the units and refresh their looks," Annie says.
This Airbnb finds itself fully booked frequently in the months of March and April, as well as September and October. Because the summer is the hottest being 90-100 degrees in the day, it lends itself to the slower season. "These summer nights take away anything that wasn't perfect in the day time, and it's not nearly as crowded, either."
ALSO FUN FACT: Annie and Tony got married in this very desert, at their own campsite! #goals #couplegoals
---
Listing for Bookings
The Nomad Yurt
The Rising Sun Tipi
The Golden Moon Tipi
The Glamping Tent
Click Here to Follow them on Instagram: @LAZY_SKY_RETREAT
---
Like This Post? Save for Later!